Lobbyist-in-a-Box (LIAB)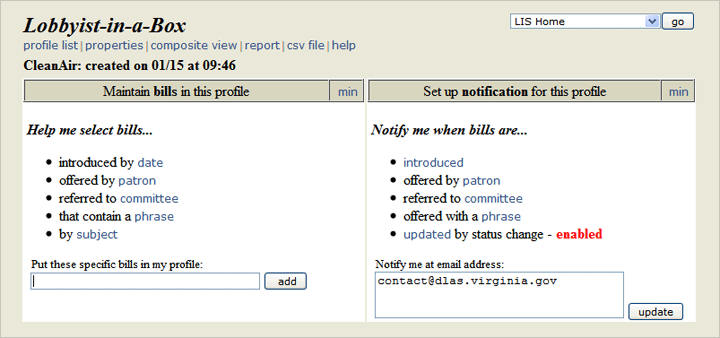 Overview
Active participants in Virginia's legislative process need to track multiple bills, across a variety of subjects, and be notified of any status changes or procedural actions. Lobbyist-in-a-Box (LIAB) gives the user tools to identify and categorize bills and resolutions of interest and create reports. LIAB is integrated into the DLAS' Legislative Information System so the user can be confident that they are getting the most up-to-date and accurate information about the General Assembly session.
Challenge
The legislative session lasts for only two months. In that short period of time, thousands of bills work their way through the legislative process. Only a handful of these bills may be of interest to a particular user of the Legislative Information System. Locating the bills that matter to you, and keeping track of where they are in the legislative process can be a daunting task.
Solution
DLAS offers the Lobbyist-in-a-Box service to customers seeking timely information regarding the activities of the Virginia General Assembly. LIAB is a fee-based bill tracking service specifically designed for lobbyists, special interest groups, and state agency personnel. Users may create multiple profiles of bills and receive email notification when changes occur. A free version of LIAB is also available for tracking five bills or less.
Free Service - You may track up to 5 bills in one Lobbyist-In-A-Box "profile" without charge. To register you'll need to fill in your desired user ID and password, your first and last name, and your email address. Click on free registration to sign up.
Fee-Based Service - With a paid subscription to Lobbyist-In-A-Box, you can create multiple profiles, each containing bill lists and notification options. Email notification triggers an email when bills are sponsored by a member of the General Assembly, referred to a House or Senate Committee or contain specific key word(s), phrases, or Code section(s). The cost of this service is $400 for state agencies and $600 for all other subscribers. To subscribe, please refer to the Premium Service Subscription Agreement.
PAST SUCCESSES

Lobbyist-in-a-Box